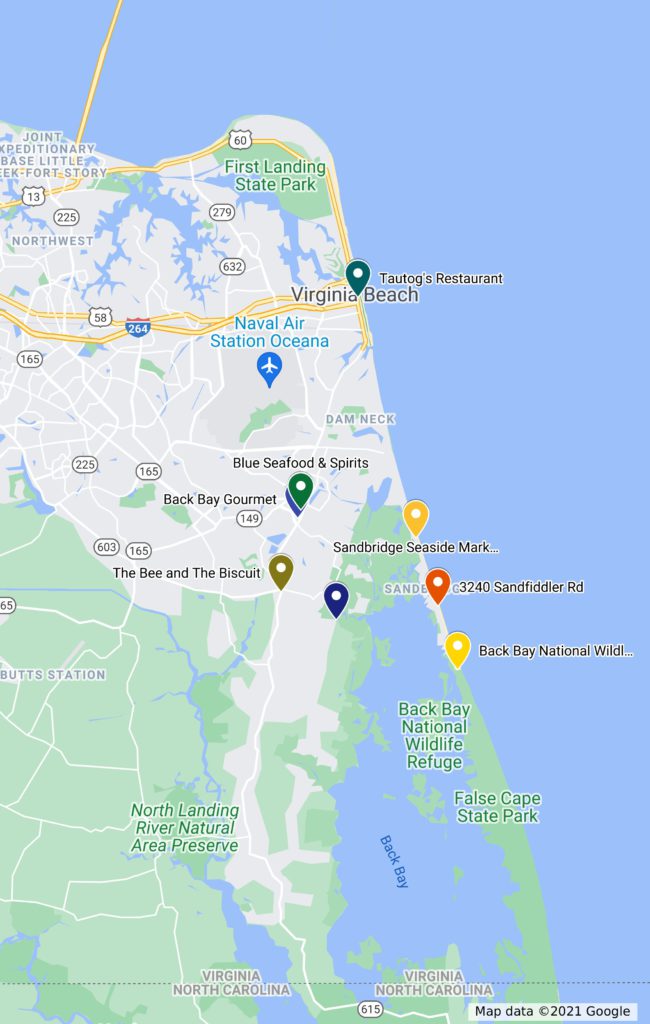 ShipShape is located at 3240 Sandfiddler Road in Sandbridge VA, about 10 miles south of Virginia Beach.  The map above highlights some restaurants and local areas that come highly recommended:
The Bee and the Biscuit: http://www.beebiscuit.com/
A breakfast/brunch locate, reservations highly recommended. Great way to get a local breakfast experience.
Sandbridge Seaside Market
Less than 5 minutes away from ShipShape, good local grocer for any last minute needs, usually open till 10pm and attached to Sandbridge Island, a good local dive for food and spirits.
Blue Seafood & Spirits: https://blueseafoodandspirits.com/
One of the best rated seafood restaurants in the VA Beach area. A good place to spend an evening if you are in the mood for a high quality, fresh meal. Reservations recommended.
Blue Petes Restaurant: http://bluepetespungo.com/
A local establishment, serving great classics with options for local seafood. Bring your appetite, generous portions await at reasonable prices.
Back Bay Gourmet: http://thebackbaygourmet.com/
A great option for a hearty lunch. Serving sandwiches, salads, pasta, soups and bakery goodies. Food can also be taken out, making it a great option for taking an easy meal to the beach. (Cookies are absolutely amazing, highly recommended)
Tautog's Restaurant: http://www.tautogs.com/tautogs-restaurant.html
A quaint, accessible restaurant in the heart of VA Beach proper. Serving seafood meals that are second to none. For a comforting night paired with comfort meals made with the best the ocean can offer (Shellfish, Fish, Mussels, Clams, Shrimp, and more!)
Back Bay Wildlife Preserve: https://www.fws.gov/refuge/Back_Bay/visit/visitor_activities.html
Right down from ShipShape, Back Bay offers visitors options to fish, sightsee, or just have a relaxing day out at the park. Basketball courts along with picnic areas, viewing piers, and playgrounds allow for a wonderful day trip.